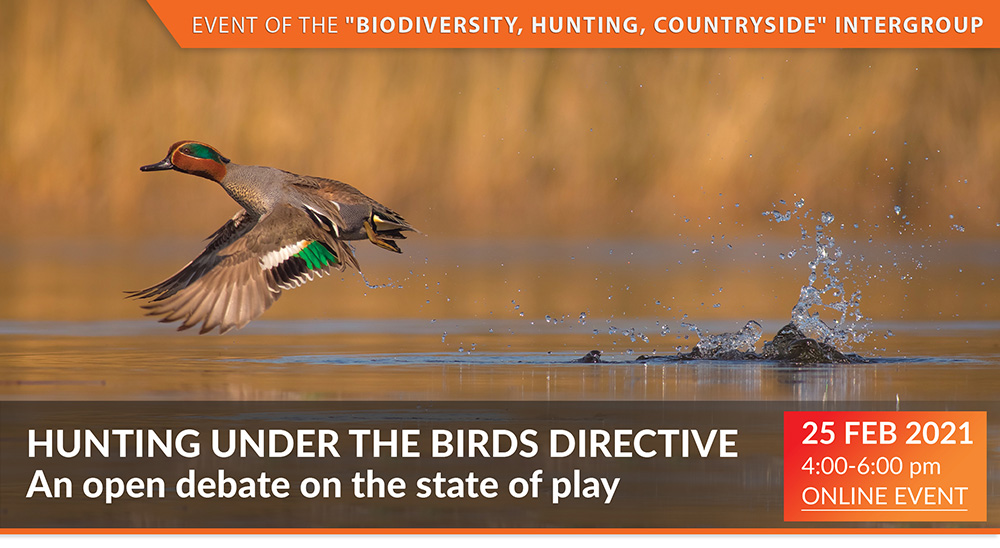 09 Feb 2021

Hunting under the Birds Directive: An open debate on the state of play

MEP Álvaro Amaro, President of the Intergroup on "Biodiversity, Hunting, Countryside", invites you to join our online webinar on 25 February 2021 (16-18h) on "Hunting under the Birds Directive: An open debate on the state of play".

The event comes at a time when the latest status of Europe's huntable birds is published by FACE drawing on the State of Nature report, and the European Commission steps up its focus on adaptive harvest management for the Turtle Dove. This event also comes at an important political moment as the European Commission is defining its targets for the EU Biodiversity Strategy implementation and stepping up implementation and enforcement of EU environmental legislation.

The online event is organised by the Intergroup in conjuction with FACE, with interventions from:

MEP Álvaro AMARO
President of the Intergroup, EPP

MEP Alex AGIUS-SALIBA
Vice-President of the Intergroup, S&D

MEP Isabel BENJUMEA
Member of the Intergroup

Micheal O'BRIAIN
Deputy Head of Unit, DG ENVI Nature Protection
European Commission

Prof. Jesper MADSEN
Aarhus University, Denmark
AEWA EGMP Data Centre

Cy GRIFFIN
Senior Conservation Manager, FACE

Ariel BRUNNER
Acting Interim Director & Senior Head of Policy
BirdLife International

Registered participants are invited to send written questions before the event to communication@face.eu or via chat function of the platform during the live event. Moderator will choose relevant questions.