09 Jun 2023

Landing one of the largest campaigns in Brussels: The European Hunters' Campaign

Brussels, 9 June 2023 – This week, FACE officially handed over the "SignforHunting" campaign to the Commissioner for Environment, Mr. Virginijus Sinkevičius. The campaign is a call on legislators to "work with" Europe's hunters and to better recognise the contribution which hunters make. This call should be seen as strong offer of support to European institutions, as well as a request for policy change.

The signatures gathered also highlight the collective voice of Europe's hunters, their stand for sustainable hunting as well as their commitment to nature restoration and the promotion of hunting's important cultural heritage. During the handover, Mr. Virginijus Sinkevičius spoke about the importance of hunters' conservation work and FACE's support for the Nature Restoration proposal.

Prior to meeting the Environment Commissioner, the signatures were showcased at the European Parliament during a crucial time for nature policy in Europe. One of the campaign asks is for "for the EU nature law to deliver results for ecosystems and habitats for small game, especially wetlands and farmlands". Next week, MEPs in the European Parliament's Environment Committee will vote on this crucial piece of legislation. For FACE, this proposal importantly moves Europe's conservation focus from species protection and protected areas to the restoration of habitats, which is key for recovering biodiversity. This is something which FACE has been requesting for decades.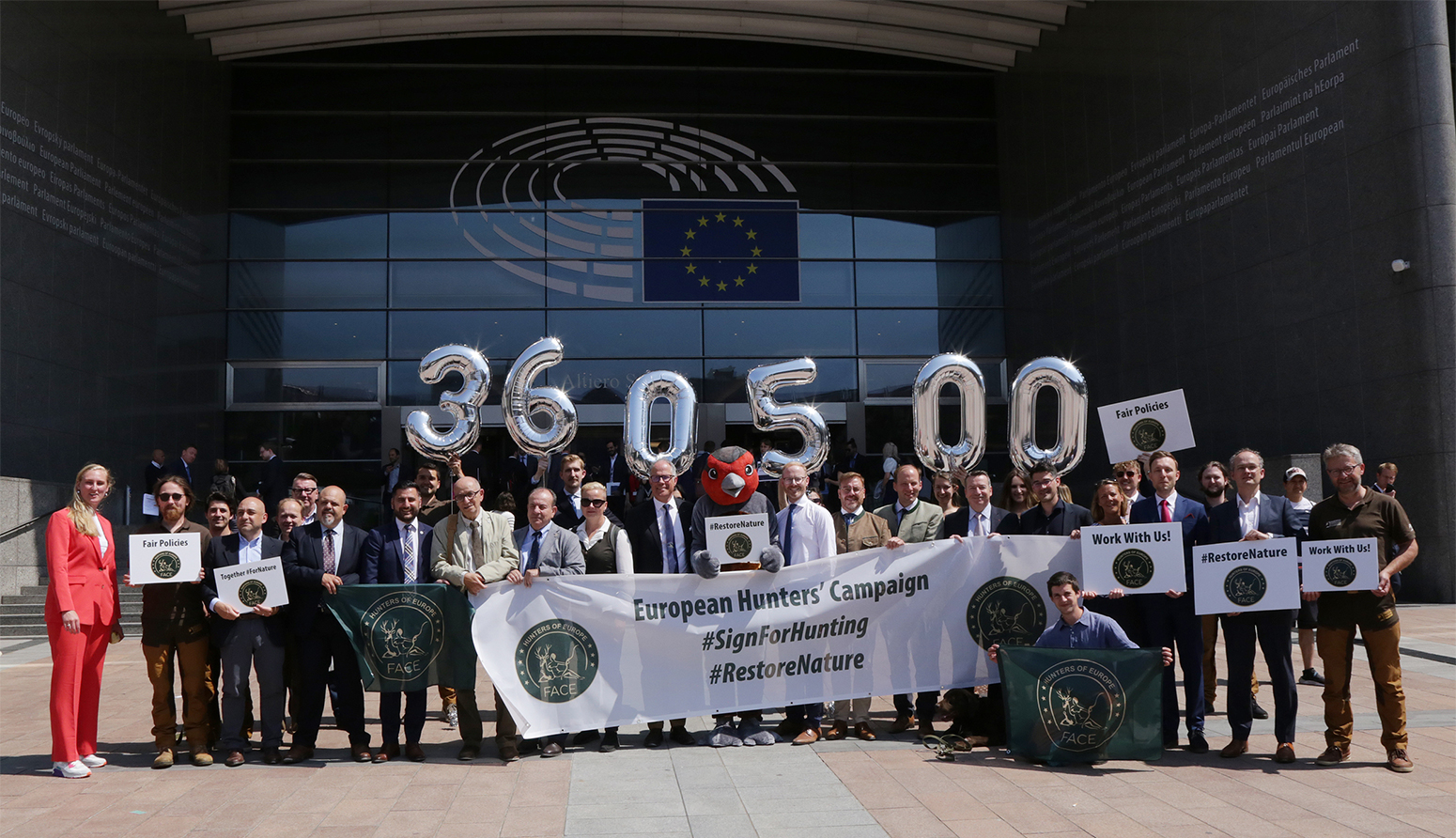 FACE thanks all those who supported the campaign and welcomes that so many hunters are behind our main policy request, namely that legislators work with us.
About the campaign and its timing
This campaign petitions the main European institutions to improve collaboration with hunters for nature conservation and the future of hunting. It encompasses nine policy points requesting changes in crucial hunting and conservation areas. One of the most timely requests is for nature restoration law to benefit ecosystems and habitats, particularly wetlands and farmlands. FACE stands for the recognition of hunters as part of the solution, pushing for more evidence-based approaches to hunting, including regional hunting practices. For more information about the www.SignforHunting.com campaign, visit the website or contact FACE directly.
About FACE
The European Federation for Hunting and Conservation (FACE) is the voice of Europe's hunters. Its members are national hunting associations in 37 European countries, representing 7 million hunters. For more, see www.face.eu