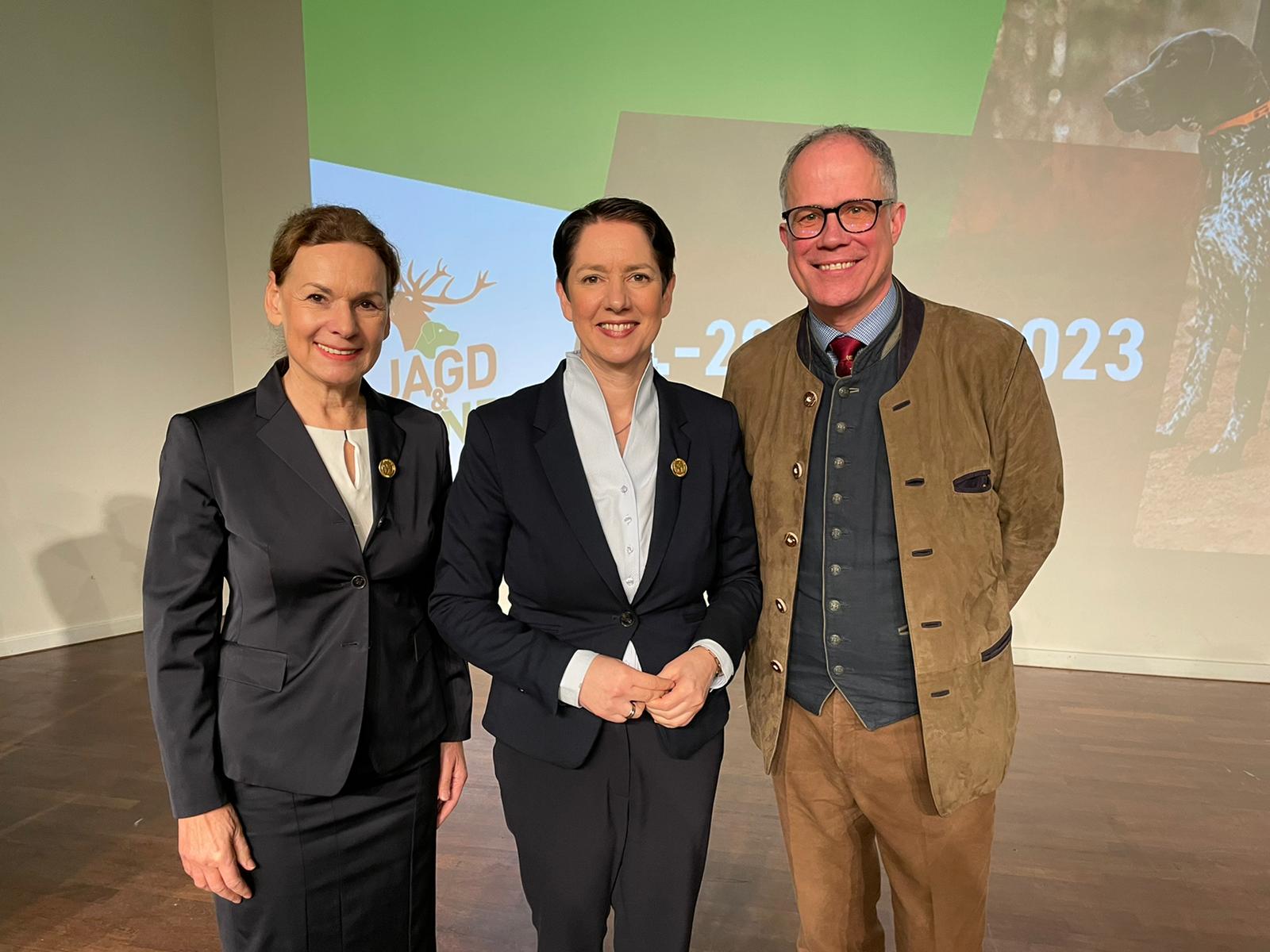 27 Jan 2023

Europe's largest hunting fair JAGD & HUND Germany: FACE advances its new strategy for 2027

The JAGD & HUND fair – the largest hunting exhibition in Europe – opened this week (24-29 January) in Dortmund, Germany. On this occasion, delegates and experts from Europe's national hunting associations participated in a number of FACE meetings. The FACE Board discussed key priorities on the new nature restoration law, migratory birds, large carnivores, firearms and ammunition. The FACE Communication Working Group met to advance work on the social pillar of the new FACE strategy for 2027.

(pictured above) Sabine Loos, Director of the Messe Westfalenhallen Dortmund, Silke Gorissen, Minister of Agriculture and Consumer Protection of the State of North Rhine-Westphalia and Torbjörn Larsson, FACE President.

The European Hunters' Campaign featured as a key topic for discussion throughout the fair. Over the past few months FACE, together with its members, have gathered more than 210,000 signatures, making this one of the largest campaigns in Brussels. This campaign (www.SignForHunting.com) aims to ensure a strong future for hunting and conservation in Europe.

On 25 January, FACE organised a successful industry networking event dedicated to the private sector entitled Hunting in Europe in 2023: What industry needs to know?, which was attended by major exhibiting companies, business leaders and industry representatives.

At this event, Torbjörn Larsson, FACE President and Dr. David Scallan, Secretary General, presented the major elements of FACE's advocacy work including the threats, opportunities and challenges coming Brussels where 80% of rules affecting hunting and conservation in Europe emerge. This annual event is an increasingly popular place to for the private sector to network and to understand the latest trends affecting hunting and conservation in Europe. A number of companies in the FACE Patron Programme joined the event.