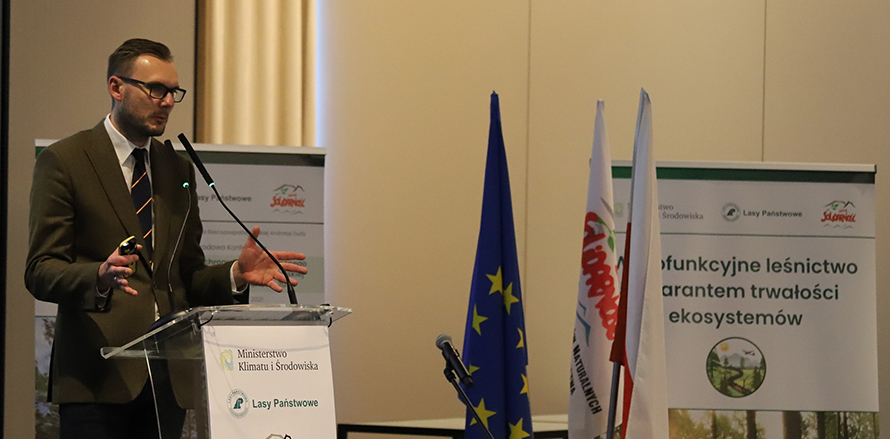 18 Oct 2021

High level conference on EU Biodiversity Strategy and EU Forest Strategy in Poland

On 8 October 2021, an international conference was held in Warsaw under the title: The future of forest management in Poland in the context of EU biodiversity and forest strategies 2030. Both strategies have been a source of discussion at the European level since their announcement.
The conference was organised by the National Secretariat of Natural Resources, Environmental Protection and Forestry Independent Self-Governing Trade Union "Solidarność", with the support of the Ministry of Climate and Environment and General Directorate of the State Forests, under the Honorary Patronage of the President of the Republic of Poland, Andrzej Duda, who was represented by Paweł Sałek, advisor for environmental protection, climate policy and sustainable development.
FACE was represented by Jarosław Kuczaj, Policy Advisor. He pointed to the international conventions: the Convention on Biological Diversity (CBD, 1992) and the Bern Convention (BC, 1979), which in their objectives refer to the conservation of biodiversity and the need for sustainable use of its resources.
He also mentioned the European Charter on Hunting and Biodiversity (2007), which guides and encourages all stakeholders in the sustainable use and conservation of resources, with fair and equitable distribution of benefits.
In his speech, he stressed the important role of hunters, who have always been active in improving biodiversity in Europe. The initiatives of European hunters can be found on the platform www.biodiversitymanifesto.com, which support FACE's advocacy work in Brussels.
The conference was moderated by Tomasz Markiewicz, UEF vice-President and prof. dr hab. Tomasz Zawiła-Niedźwiecki, Chairman of the Forestry Sciences and Wood Technology Committee, Polish Academy of Sciences and brought together many representatives of the Polish government, politicians, distinguished university professors, excellent and international speakers and invited guests. More information can be found here.