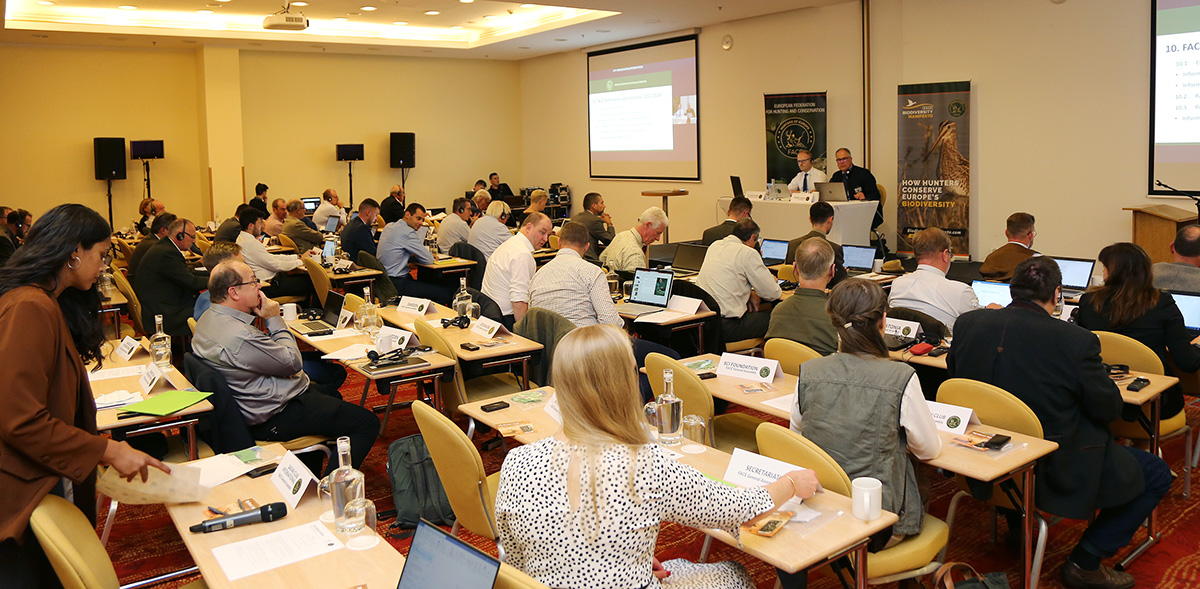 24 Sep 2021

Setting The Priorities For Hunting And Conservation In Europe: Face General Assembly, Budapest

On 24 September, the 58th General Assembly was held in Budapest on the occasion of the "One with Nature" Expo. Organised in the format of a hybrid event, FACE members and delegates met for the first time since the pandemic started. Several other Members joined remotely via the online meeting platform.

FACE delegates agreed on key priorities for the future. Discussions featured on agricultural policy, bird conservation, large carnivores, protected areas and ammunition. The General Assembly agreed on a clear statement calling on European Governments to step up efforts on ensuring agriculture delivers for biodiversity. The statement urges national policymakers, who are currently drafting CAP Strategic Plans, to take ambitious steps to deal with biodiversity loss on Europe's farmland.

See the statement here in EN, FR, DE.

FACE Members and delegates elected Torbjorn Larsson as President of FACE for another 3 year-term and appointed its new Board composed of:
President, TORBJÖRN LARSSON
Treasurer General, DAVID CLAVADETSCHER
Vice-President, Germany, Dr. VOLKER BÖHNING
Vice-President, Nordic Region, TUOMAS HALLENBERG
Vice-President, Italy, GIAN LUCA DALL'OLIO
Vice-President, France, ALAIN DURAND
Vice-President, Spain, MANUEL GALLARDO
Vice-President, Baltic Region, LINDA DOMBROVSKA
Vice-President, Mediterranean Region, LINO FARRUGIA
Vice-President, Atlantic Region, DIETER DE METS
Vice-President, South-East Region, VASIL VASILEV
Vice-President, United Kingdom, IAN BELL
Vice-President, Central Region, SREČKO ŽERJAV
The FACE General Assembly is set in conjunction with the European Hunters' Conference, planned for today the 25 September. The conference will focus on the impact of Brussels' decision-making on hunting and conservation in Europe, especially on large carnivores and migratory birds. A session on hunting and the media is also on the agenda.
After his election, FACE President Torbjörn Larsson stressed that: "Solidarity between Europe's hunting regions is crucial to preserve and promote Europe's unique hunting cultures. The Members' diversity should be seen as a strength. The interests of Europe's 7 million hunters should be at the centre of FACE's activities".
Many FACE Members will remain in Budapest for the exciting "One With Nature" expo taking place until 14 October 2021 (link).
Based on the combined knowledge-base of the Member organisations and the strength of Europe's 7 million hunters, FACE works to sustain hunting for present and future generations.