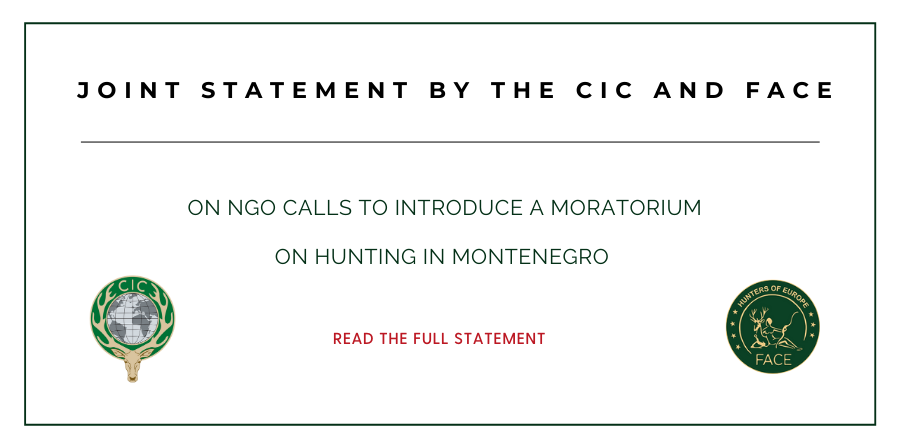 12 Mar 2021

Statement: Response to calls by some NGOs to introduce a moratorium on hunting in Montenegro

The International Council for Game and Wildlife Conservation (CIC) and the European Federation for Hunting and Conservation (FACE) have reacted to calls by some NGOs to pressure the Government of Montenegro into introducing a moratorium on hunting.

These NGOs have called on the Government of Montenegro to introduce a five-year moratorium on the hunting of game animals in response to the illegal killing of a Brown Bear.

Some key points in the statement include:
'Poaching' cannot and should not be equated to 'hunting', which is a legal and regulated activity.
The CIC and FACE support an investigation into this case and, should the individuals involved be found guilty by a court of law, they should be punished according to the relevant laws.
Introducing a moratorium on hunting in Montenegro as a result of this incident would be disproportionate, unnecessary and dangerous. Such a measure would have many unintended consequences, and lead to socio-economic and environmental damages and increased conflicts.
The CIC and FACE are ready to assist the Government of Montenegro and any other relevant authorities with recommendations on measures, which could be employed to combat poaching effectively.
The Hunting Association of Montenegro (Lovački Savez Crne Gore), a member of both the CIC and FACE, support this joint statement and its implications for hunters, hunting and sustainable use in Montenegro.