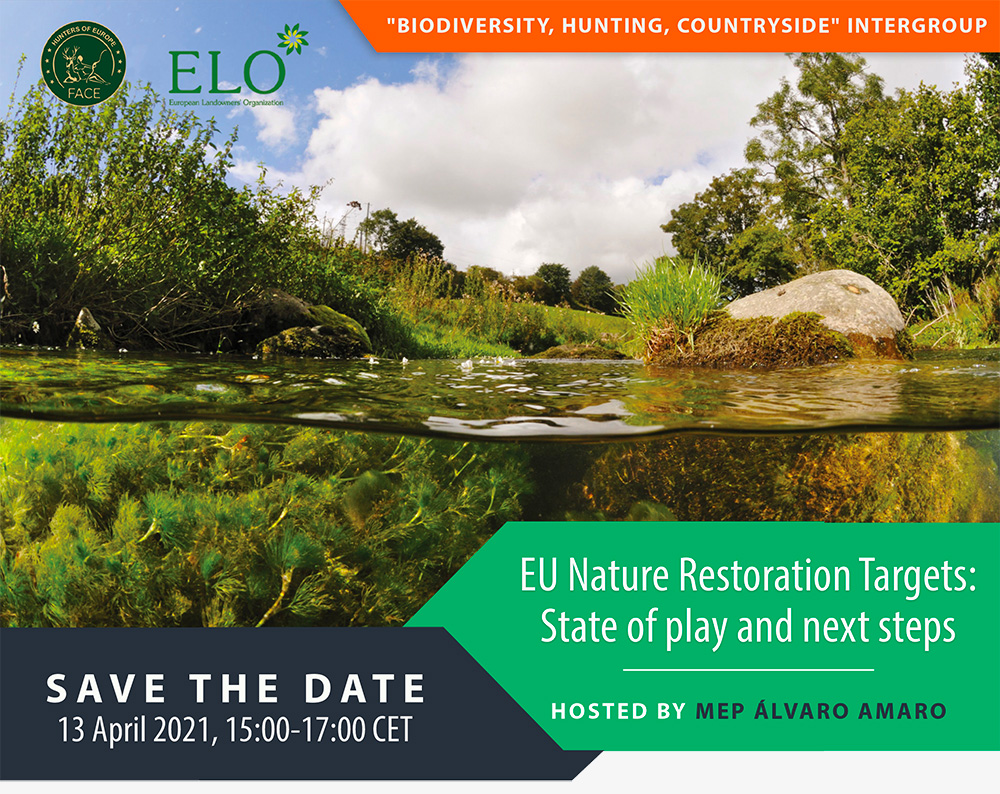 25 Mar 2021

EU Nature Restoration Targets: State of play and next steps

Register now for the high-level event of the "Biodiversity, Hunting, Countryside" Intergroup  on "EU Nature Restoration Targets: State of play and next steps" planned for 13 April 2021 (15:00-17:00).

MEP Álvaro AMARO
President of the Intergroup, EPP

MEP Simone SCHMIEDTBAUER
Vice-President of the Intergroup, EPP

MEP Alexander BERNHUBER
Member of the Intergroup, EPP

Stefan LEINER
Head of Unit, Natural Capital – Biodiversity, DG Env
European Commission

Justine GUINY
International Biodiversity Policy Officer
BirdLife International

Prof. Jordi CORTINA-SEGARRA
Chair European Chapter of the Society for Ecological Restoration
Department of Ecology and IMEM, University of Alicante

Jurgen TACK
ELO Scientific Director

The European Commission's EU 2030 Biodiversity Strategy proposes ambitious restoration targets. The measure constitutes a central element for the success or failure of the 2030 strategy. As the non-legally binding target of restoring 15% of degraded ecosystems set up in the 2020 Biodiversity Strategy was not achieved, the European Commission estimates that a legally binding target could make a difference to improve the situation.

This event will discuss the EC's proposed approach and, in particular, the choice of opting for a binding target and evaluate the missing elements to improve the health and resilience of European rich ecosystems.

Registered participants are invited to send written questions before the event to communication@face.eu or via chat function of the platform during the live event. Moderator will choose relevant questions.