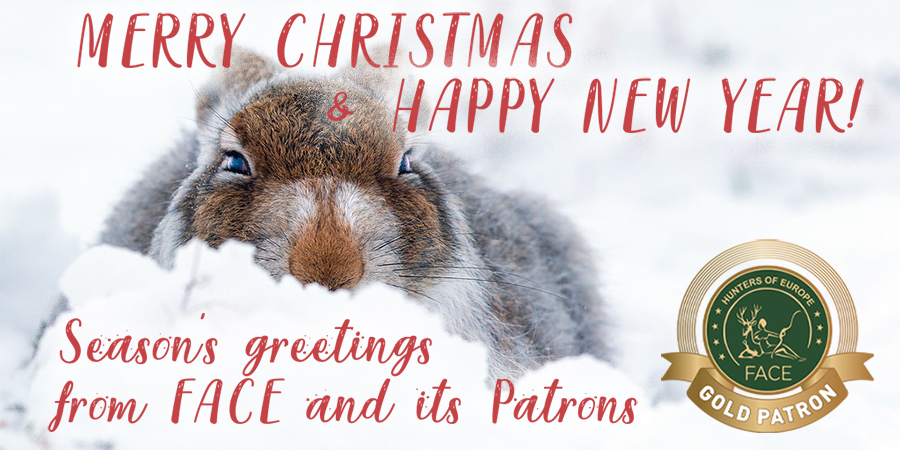 20 Dec 2020

Merry Christmas & Happy New Year from FACE and its "Gold" Patrons!

Dear Friends,

On behalf of the European Federation for Hunting and Conservation (FACE), I would like to wish you and your families a Merry Christmas and Happy New Year!

A challenging year is about to end: We could count on the strong support of our 37 Full Members, 7 Associate Members and, for the first year now, also on the new FACE "Gold" Patrons which actively supported FACE's mission to ensure a strong future for hunting and conservation in Europe.

I am delighted to share with you greetings from each of the FACE "Gold" Patrons.

FACE President, Torbjörn Larsson

JAGD & HUND is Europe's largest hunting exhibition. It is hosted by Messe Dortmund GmbH, which is one of the largest exhibition centres in Germany. Every year, it hosts a large number of well-attended fairs and events.

"Despite the restricted celebrations, our best wishes to everyone for a happy Christmas and a healthy 2021. With our lives hopefully returning to normal, we can look forward to once again enjoying our passion, especially with BioAmmo. 0% plastic, biodegradable bio-compostable cartridges to make hunting even more environmentally sustainable"

Peter Chatland
Director International Markets of BioAmmo

BioAmmo Ltd is an ammunition manufacturer dedicated to the development, manufacturing and distribution of 100% biodegradable, bio-compostable and non-toxic wads and cases with 0% plastic. BioAmmo's mission is to manufacture high quality, high performance cartridges for both Game and Sports shooting and to help to eradicate any pollution from plastic in ammunition.

"2020 has challenged us in many ways. However, this year the fascination for nature has been rediscovered by many which can only improve the way we manage our natural resources. With this kind of good news in mind we look confidently towards 2021. We wish you and your families a Merry Christmas and a Happy New Year!"

Dr. Jens Uwe Drowatzky
CEO of Blaser Group

Blaser is the famous German brand founded in 1957 by Horst Blaser. It is a manufacturer of high-end shotguns and rifles for hunting, but its portfolio also includes a wide range of products from hunting firearms to hunting gear, ammunition, optics, accessories, outfits.

"Despite the challenges posed by 2020, we were able to achieve many new partnerships, new colleagues and a record 375.000 downloads in Europe this year, and look forward to an even better 2021. We wish you a Merry Christmas and a blessed New Year!"

Lorenz Frey-Hilti & Markus Ortmann
CEOs of Hunter & Co.

Hunter & Co. are the makers of the No. 1 Hunting App in Europe and have their headquarters in Munich. Their team is made up of a dedicated team of hunters, software developers and nature lovers. They started with the vision to digitalize the hunting experience and associated wildlife research in May 2018. Just over two years later, they have amassed over 375.000 downloads and are rapidly expanding.