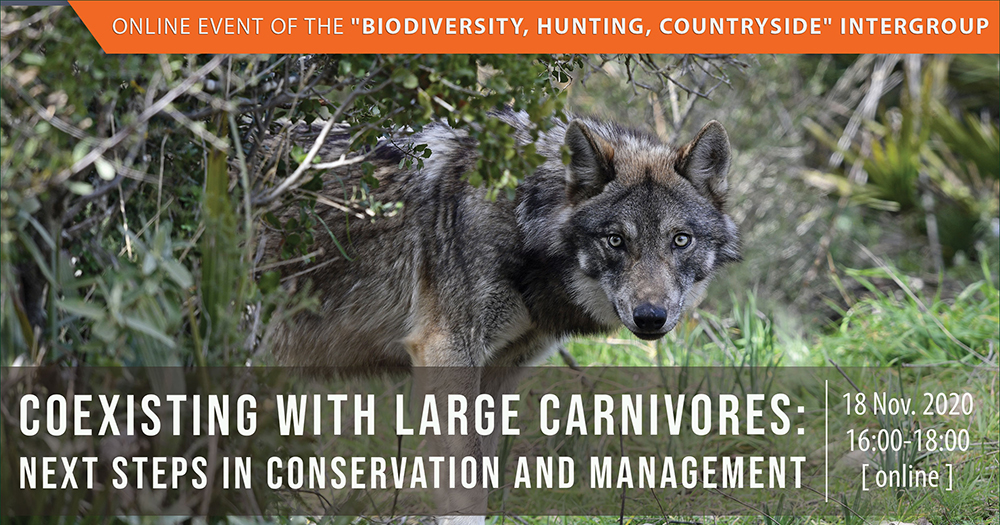 10 Nov 2020

Coexisting with Large Carnivores: Next steps in conservation and management

The conference "Coexisting with Large Carnivores: Next steps in conservation and management", organised by the "Biodiversity, Hunting, Countryside" Intergroup, will discuss the next steps in EU's policy framework on large carnivores and the related challenges and solutions towards improving coexistence. With reference to the recently published State of Nature 2020 report, it is essential to find workable solutions to mitigate the conflicts between human interests and large carnivores in line with EU law.

Many stakeholders are awaiting the Commission's revised guidance on 'strict protection' to better understand how conservation and management priorities can be correctly applied towards achieving long-term coexistence with large carnivores in Europe's densely populated and multifunctional landscapes.

The online event is organised by the Intergroup in conjuction with FACE, with interventions from:

MEP ÁLVARO AMARO
President of the Intergroup, EPP

MEP JUAN IGNACIO ZOIDO
Vice-President of the Intergroup, EPP

MEP ELSI KATAINEN
Vice-President of the Intergroup, Renew Europe

MEP HERBERT DORFMANN
Intergroup Member, EPP

NICOLA NOTARO (Keynote Speech)
DG ENVI Nature Protection, European Commission

DR. JOHN LINNELL
Norwegian Institute for Nature Research

MORITZ KLOSE
Programme Lead Wildlife, WWF

PROF. HENRYK OKARMA
Institute of Nature Conservation, Krakow, Poland

The conference aims to discuss the following questions:
Which large carnivore species and populations are in need of greater conservation efforts based on the latest Member State reports?
What is the appropriate scale to achieve favorable conservation status?
How to assess large carnivore "favorable conservation status in their natural range"?
How can derogations be used in populations with an unfavorable conservation status: What does recent case law say?
How to deal with individual "bold" large carnivores?
Favourable Reference Values (FRVs) and conservation status assessments at the population level: A way forward?
Participants can send written questions in advance before the event to communication@face.eu or via chat function of the platform during the live event. Moderator will choose relevant questions.