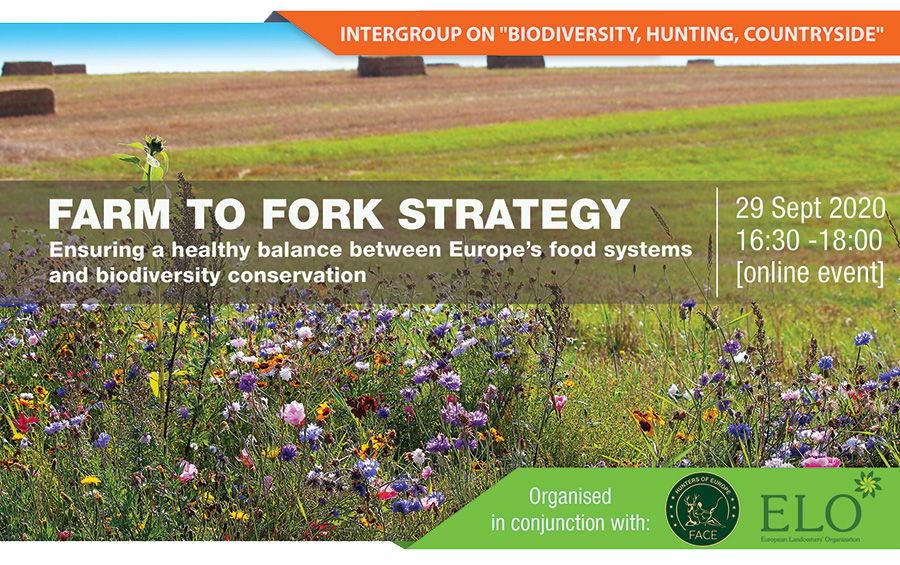 16 Sep 2020

REGISTER NOW – Intergroup event on the "Farm to Fork" Strategy

The conference "Farm to Fork" Strategy: Ensuring a healthy balance between Europe's food systems and biodiversity conservation" will discuss opportunities and challenges for the "Farm to Fork" Strategy, one of the main pillars of the EU Green Deal recently unveiled by the European Commission.

On 20 May 2020, the Commission accompanied its Communication on the "Farm to Fork Strategy for a fair, healthy and environmentally-friendly food system" with an Action Plan of 27 legislatives and non-legislative measures, to be taken forward in a timespan from 2020 to 2024.

Although it will be for the concrete initiatives to detail the content of the measures, the strategy already sets a number of steps to be taken and certain targets to be achieved. The strategy states that a shift to a sustainable food system can bring environmental, health and social benefits, offer economic gains and ensure biodiversity targets are met. As underlined in the strategy, the transition into a sustainable food system needs to be supported by a consistent Common Agricultural Policy (CAP) that must be aligned with the objectives of the Green Deal.

During the conference, Members of the European Parliament (MEPs), European Commission officials and relevant stakeholders will provide their views on the ambitious path to a sustainable food chain which will require necessary nature conservation actions.

Land managers and hunters, in particular, will share their expectations on how to effectively implement the "Farm to Fork" Strategy which is aimed at establishing a new and better balance of nature, food systems and biodiversity, and at the same time to increase the EU's competitiveness and resilience. Halting the biodiversity loss and conserving nature and wildlife will be crucial as well as the role played by rural actors in making this great transition happen.