20 Mar 2020

Avv. Giovanni Bana RIP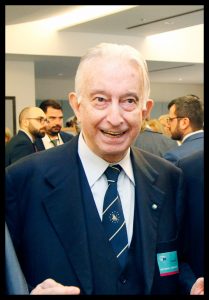 It is with deep sadness that I inform you of the death of Avv. Giovanni Bana, one of the founders of FACE, former FACE President (1988-1991), former FACE Vice-President and Honorary FACE President.
Many will remember Giovanni Bana as a strenuous defender of sustainable hunting in Europe, a very keen ornithologist and champion of migratory bird hunting and conservation in the Mediterranean.
All who knew him marvelled at his energy. Testament to this was his ability to devote time to his law practice, the Arosio bird observatory in Como, and the European Foundation Il Nibbio.
A charismatic lawyer, esteemed by all his European colleagues, he was actively involved since the early stages of the development of FACE in 1977 and devoted much of his time and valuable skills to the defence and promotion of hunting in Europe for over 40 years.
We will miss his enthusiasm and strong will!
We extend our sincere condolences to his family and friends.
Torbjörn Larsson
President of FACE