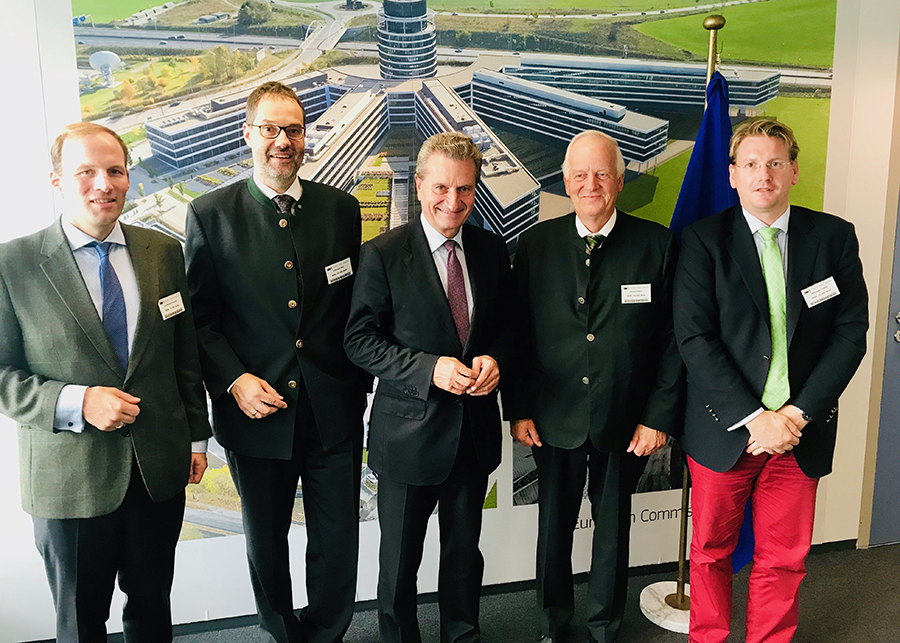 04 Oct 2018

Deutscher Jagdverband (DJV), the German regional association Landesjagdverband Baden-Württemberg and FACE meet EU Commissioner Oettinger

Brussels, 21 September 2018 – The urgent need for pragmatic approaches to managing wolves and the future of the Common Agricultural Policy (CAP) were key topics discussed at the meeting between EU Commissioner Günther Oettinger, the German hunting association Deutscher Jagdverband (DJV), the German regional association Landesjagdverband Baden-Württemberg and FACE.

At the beginning of the meeting, Vice-President of DJV and FACE, Dr. Volker Böhning outlined the clear political requests of German hunters – Link – to efficently manage wolves underlining the need to amend the strict protection status of wolves. These actions would be of utmost importance, he added, due to the rapid increase and expansion of wolves in Germany, which cause unacceptable problems for both farmers and livestock breeders. He criticized both the Federal Environment Ministry and the Federal Agency for Nature Conservation in Germany and called for a more realistic assessment of the situation of wolves in Europe and Germany. The favourable conservation status of wolf populations in north-eastern Germany could no longer be denied and time had come for an active approach towards wolf management based on legal hunting regulations. Besides, those already frequently promoted preventive measures to protect grazing livestock had turned out neither be practicable nor economically feasable.
Dr. Jörg Friedmann, President of the Landesjagdverband Baden-Württemberg, reported on cases of wolves killing animals in Baden-Württemberg. He referred to the contradiction between confining deer in administratively defined areas and the free movement of wolves into the same areas. The hunting and wildlife management law in Baden-Württemberg would be the suitable management tool also for species like the wolf, he added. The same principles of wildlife management should also apply to wolves. In particular, he called for more flexibility for Member States to take decisions in this respect. This would be achieved by a proper application of Article 19 of the Habitats Directive.
Participants also discussed the concerns of hunters regarding the Common Agricultural Policy (CAP) after 2020 which should include strong nature and biodiversity targets to reward farmers for the production of food and ecosystem services of whatever scale, as these would benefit the wider society. Furthermore, measures should be taken to address the dramatic decline of small game and other non-huntable species. In this context, Dr. Friedmann referred to the project "Alliance for small game" and the opening of the first model region in the Filder area. Multiannual flowering areas combined with fallow land, for example, provide excellent flowering, breeding and retreat areas for partridges. In the interest of our wildlife, hunters would need to forge even closer and stronger alliances with organisations of primary land users. To achieve this, the next CAP funding period should provide for practial and feasible options for implementation.
Finally, FACE Secretary General Ludwig Willnegger and DJV Legal Advisor Friedrich von Massow referred to the recent outbreak of African Swine Fever in wild boar in Belgium and its potential dramatic negative impact on hunting and the pig industry. They recalled that hunters would be ready to contribute to the fight against this disease. The European Commission should not be afraid to financially support any counter-measures. They highlighted that the major problem is not wild boar populations but humans in terms of the further spread of African Swine Fever in western and central Europe.
Dr. Friedmann invited EU-Commissioner Oettinger to participate in the annual hunters conference on April 6, 2019 in Sigmaringen, Germany.