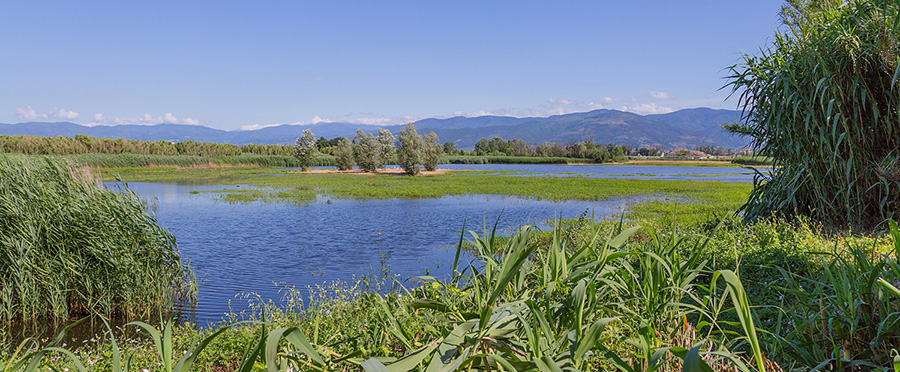 06 Jun 2018

HOW GREEN INFRASTRUCTURE CONTRIBUTES TO MEETING THE GOALS OF THE NATURE DIRECTIVES

In the EU Biodiversity Strategy 2020, the EU and its Member States are committed to maintaining and enhancing ecosystem services and restoring degraded ecosystems by developing a concept of Green Infrastructure (GI). The explanation given by the European Commission on GI defines it as "a strategically planned network of natural and semi-natural areas with other environmental features designed and managed to deliver a wide range of ecosystem services such as water purification, air quality, space for recreation and climate mitigation and adaptation".

THE MULTIPLE BENEFITS OF GREEN INFRASTRUCTURE

FOR WILDLIFE AND HABITATS
Implementing GI contributes to restoring and improving the condition of wildlife and habitats. It increases the conditions for wild animal to find shelter, food and breeding locations. With connected habitats, breeding productivity can improve, thereby increasing the genetic diversity of populationsability to adapt.

FOR HUNTERS
GI improves landscape connectivity by generating more habitat diversity. Further, when habitats are connected, local biodiversity can be enriched and mortality can be reduced by keeping animals away from artificial structures (e.g. roads). Finally, beneficial species migrating to an area can help fight against pests and reinstate a healthier ecological balance in agricultural landscapes for instance.

GREEN INFRASTRUCTURE'S CONTRIBUTION TO THE GOALS OF THE NATURE DIRECTIVES
Europe is the most fragmented continent on our planet. Whilst protected areas such as Natura 2000 sites are an important pillar for conservation, the wider landscape is also crucially important for nature. As development continues and biodiversity loss increases, spatial flexibility is reduced for many species. The conservation of biodiversity in the wider landscape is crucial for supporting ecosystems, providing connectivity, flexibility and resilience. GI contributes to all 6 targets of the EU Biodiversity Strategy and in particular to target 1 "Protect species and habitats", that leads to the full implementation of nature directives. Natura 2000 is an important backbone of GI, which contributes to reconnecting existing fragmented natural areas and restoring degraded habitats. GI has considerable scope to ensures the ecological coherence of the Natura 2000 network so that Natura 2000 sites do not remain isolated islands of nature.

HUNTERS' INVOLVEMENT IN IMPLEMENTING GREEN INFRASTRUCTURE
It is estimated that hunters contribute to the management of over 65% of the EU's countryside. The vast majority of this is managed in collaboration with landowners, farmers, foresters, local communities and other stakeholders. Huntable species are often the first targets of these efforts but this often has positive effects for a wide range of other species and habitats. Whilst specific measures such as green bridges are important, it is the management of the wider countryside that is required for successful conservation. This is where hunters have a vital role to play.

Examples: Hunters involvement in Green Infrastructure
In Germany, hunters were involved in the Holstein Habitat Corridor Project that aims to restore the ecological connectivity of the Kreis Segeberg Region. Hunters took care of several aspects of the project such as communicating with landowners, assisting in land purchase for nature conservation measures and monitoring.

In Czech Republic, hunters and researchers conducted a couple of corridors projects in farmlands in the south Moravian Region. The corridors are composed of native trees, bushes and grasses. They provide food and shelter and facilitate wildlife movements.

In France, a local hunting association participated in the Nature en Marches project to reconnect 3 mountainous massifs. To do so, hunters were active in communicating with landowners to include them in the project. They also managed and maintain 8.5 hectares by planting wooded hedges to offer shelter for resting, reproduction and movement between the massifs to wildlife.

In Tuscany, Italy, hunters are creating wetlands on migratory pathways where a certain levels of water and reliable vegetation conditions are maintained throughout the year to support avifauna during pre-nuptial migration and breeding.

In UK, hunters and landowners worked together on the Southwest Cheshire Dormouse Project to connect 32 km of hedgerow and woodland habitat and to manage it in favourable status to allow dormice and other species to move in response of the climate change.