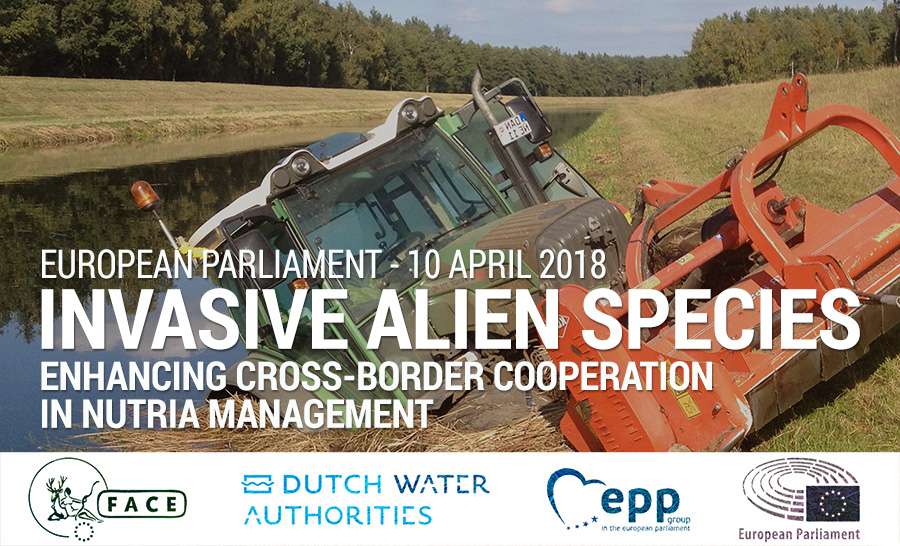 19 Mar 2018

"INVASIVE ALIEN SPECIES: ENHANCING CROSS-BORDER COOPERATION IN NUTRIA MANAGEMENT" CONFERENCE – EUROPEAN PARLIAMENT, 10/04/2018

TUESDAY, 10 APRIL 2018, 17.30 – 19.30
EUROPEAN PARLIAMENT, BRUSSELS – ROOM JAN 6Q2
INTERPRETATION EN-DE-FR

Cross-border cooperation with relevant stakeholders is crucial to manage the growing nutria population in Europe. Nutria are part of the EU list for invasive alien species since they form a serious threat for biodiversity. Moreover, nutria also endanger the water safety and have a negative impact on agricultural yields in many parts of the EU.

>>REGISTER NOW www.conference.face.eu

This is why representatives of water authorities, farmers and hunters from the Northern parts of the Netherlands and Germany (Niedersachsen), have joined their forces and recently signed an agreement to improve their cooperation for a better management of the nutria populations in their territory.

During this meeting in the European Parliament many of these involved stakeholders will present their experiences and strategic approach with the aim to raise awareness for this important issue. They also hope that this meeting will function as an example for cooperation between stakeholders along the rest of the Dutch-German border and hopefully also other border regions in the EU.