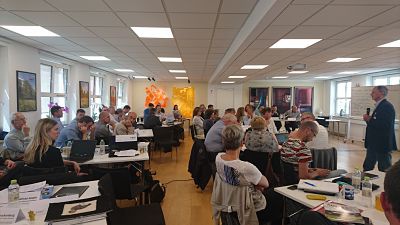 15 Jun 2017

AEWA INTERNATIONAL MANAGEMENT PLANNING WORKSHOP FOR THE BARNACLE GOOSE

From the 12-14 June, FACE attended a Stakeholder workshop hosted by Denmark for the development of an AEWA International Species Management Plan for the Barnacle Goose (East Greenland/Scotland & Ireland; Svalbard/South-west Scotland; and Russia/North-west Europe populations).

The Barnacle goose has seen a remarkable increase of its population and is now creating many problems for agriculture, nature conservation and air safety.

At the workshop, there was disagreement expressed by some on the legal framework for managing the Barnacle goose at the flyway level as it is not listed in Annex II of the Birds Directive. FACE stressed that such derogations are workable in the context of an international management plan. In a year, the working group will reconvene to discuss different kinds of models (population, range, damage to agriculture, etc.), as part of the process of adaptive harvest management.

Some scientific experts have published, in a special volume of Ambio, 14 articles relating to the sustainable management of European geese. Read them here.