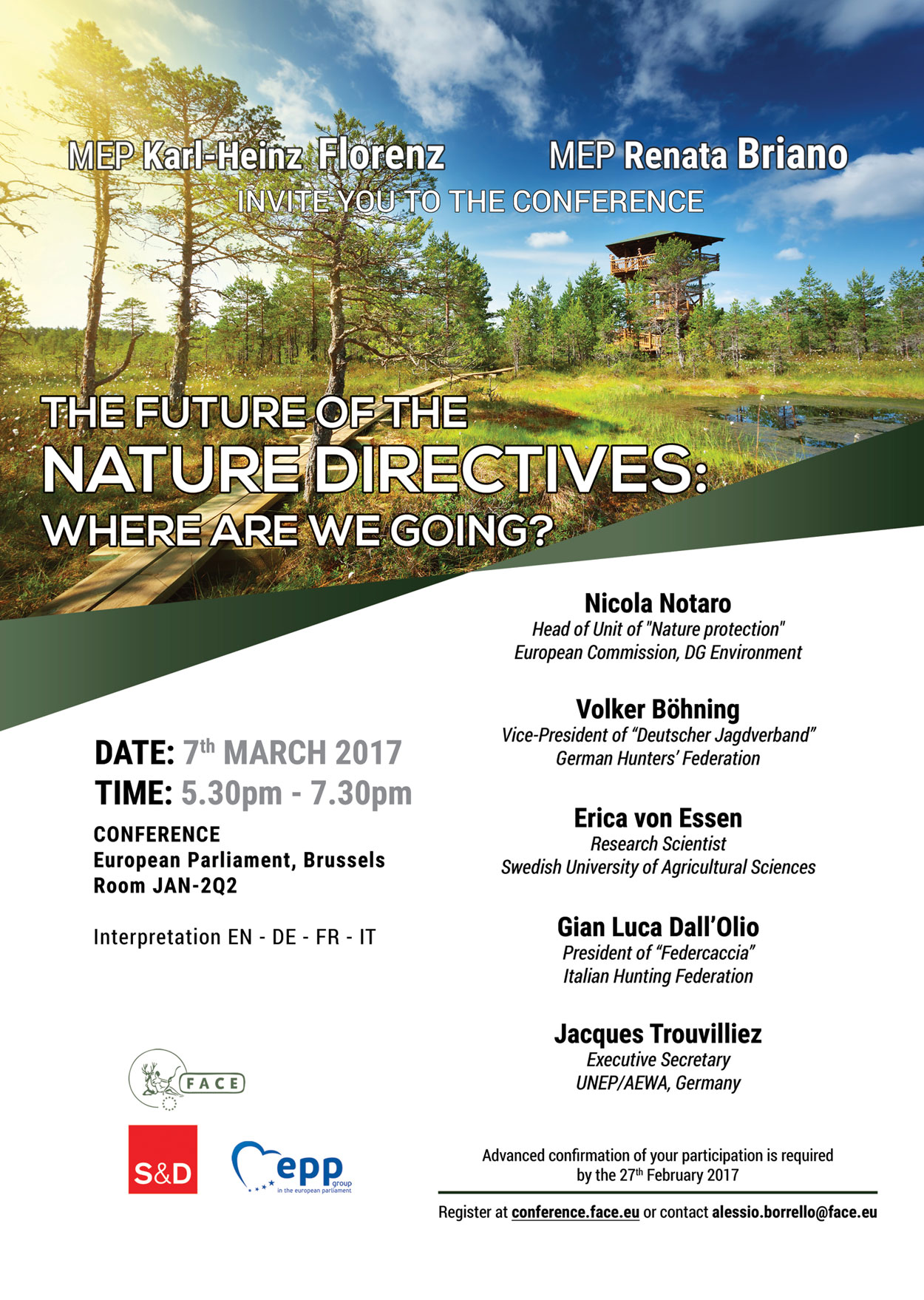 15 Feb 2017

THE FUTURE OF THE NATURE DIRECTIVES: WHERE ARE WE GOING? CONFERENCE – 7 MARCH 2017, EUROPEAN PARLIAMENT, BRUSSELS

The conference, organized by MEP Karl-Heinz Florenz, President of the Hunting Intergroup and MEP Renata Briano, Vice-President, in cooperation with FACE, will take place on 7th March 2017 at the European Parliament in Brussels.

On the 7 December 2016, the European Commissioner for Environment, Karmenu Vella, confirmed the next steps of the Fitness Check of the Birds and Habitats Directives: the European Commission will develop an implementation Action Plan to improve implementation of the Birds and Habitats Directives. This Action Plan will likely contain a series of measures such as additional guidance, better dialogue and financing to address implementation challenges and help Member States take the necessary corrective actions (read FACE's position here).

The conference "The Future of the Nature Directives: Where are we going?" will discuss this outcome of the Fitness Check of the EU nature directives and will have a specific focus on improved implementation towards reducing the conflicts caused by increasing/abundant bird populations, with presentations on goose and cormorant management, and on large carnivore conservation and management.

Agenda:

Welcome by Karl-Heinz FLORENZ, MEP
Introduction by Renata BRIANO, MEP, Chair of the meeting

Panel:
Nicola NOTARO, Head of Unit of "Nature protection" European Commission, DG Environment
Volker BÖHNING, Vice-President of FACE
Erica VON ESSEN, Research Scientist at Swedish University of Agricultural Sciences
Gian Luca DALL'OLIO, Vice-President of FACE
Jacques TROUVILLIEZ, Executive Secretary UNEP/AEWA
Discussion
Conclusions
Closing remarks

We invite you to participate in this exciting conference and to contribute to the discussion. Advanced confirmation of your participation is required by the 27th February 2017.

Please visit conference.face.eu for more information and registration.