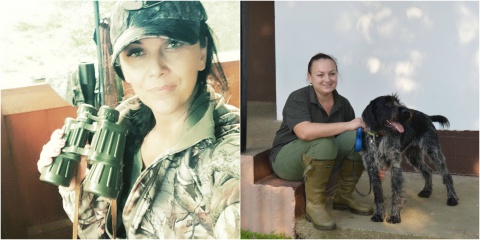 02 Dec 2016

KRISTINA TARNAJ AND IVANA JAMBREKOVIC FROM CROATIA

FACE is sharing the stories of women hunters to learn more about their motivations, challenges and views. We thank the women hunters who have already shared their experiences with us through our questionnaire. Here's a snapshot of Ivana Jambreković and Kristina Tarnaj from Croatia.

Ivana Jambreković is 31 years old from Bjelovar, Croatia. She started hunting when she was 24, although, she admits a love for hunting from an early age, passed down through generations in her family. Ivana hunts every week, always accompanied by her partner, Ivan, her sister, Petra, and her father, Petar. "I love everything related with hunting: I like to spend time with other hunters and I enjoy listening to the sound of deer roaring, of dogs barking on wild boars and the chirping of birds at dawn. But, I really also enjoy being in nature and feeling the peace when I am outside", she tells us.

Kristina Tarnaj, a project management officer from Zagreb, became a hunter 3 years ago, when she was 37 years old. The hunting tradition in her family and her love for nature conservation were the main reasons she started hunting. What she enjoys the most about hunting is being with her father and experiencing the freedom and the connection with nature.

They both belong to Hrvatski klub lovkinja LSBBŽ "Gea", a Croatian women hunting club, which was established with the aim of gathering experiences and promoting sustainable hunting in Croatia. They cooperate with other conservation organizations and organise different educational activities such a school program called "The hunter at the service of the nature" ("Lovac u službi prirode").

If you want to be the next one to appear on www.face.eu, please answer to our questionnare here http://bit.ly/2aDO9pH.