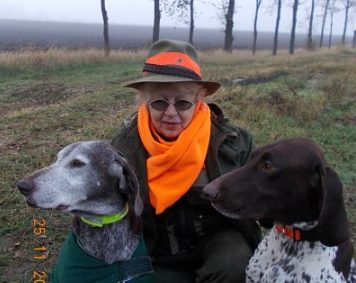 18 Nov 2016

SANJA MOMČILOVIĆ BOGNIČ FROM SERBIA

FACE is putting a special focus on women hunters to learn more about their motivations, challenges and views. Here's a snapshot from Sanja Momčilović Bognič from Serbia.

Sanja Momčilović Bognič is an architect from Bečej, Serbia. For 26 years, she has been an active and passionate hunter. She started hunting when she was 28 and today she is the President of the Ladies Hunting Club of Becej, which was established in October 2012. She is also a member of the Serbian Hunting Association and of the ladies' branch of the CIC, the Artemis Club.

Her love for nature is the main reason why she became a hunter, but she also enjoys socialising whilst hunting with the other women she hunts with. In addition to hunting with the members of the Ladies Club, Sanja often goes hunting with her husband, Bognič Šandor, who is also a passionate hunter. She hunts throughout the season, always with her hunting dogs.

If you want to be the next one to appear on www.face.eu, please answer to our questionnare here http://bit.ly/2aDO9pH.