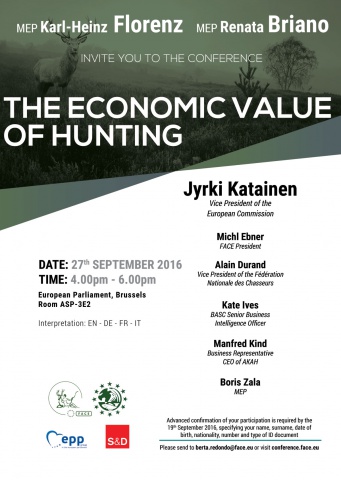 08 Sep 2016

THE EUROPEAN PARLIAMENT WILL HOST THE CONFERENCE "THE ECONOMIC VALUE OF HUNTING", ORGANIZED BY THE INTERGROUP "BIODIVERSITY, HUNTING, CONSERVATION"

The conference, organized by MEP Karl-Heinz Florenz, President of the Hunting Intergroup and MEP Renata Briano, Vice-President, in cooperation with FACE, will take place on 27th September at the European Parliament. Jyrki Katainen, Vice President of the European Commission, will participate with a keynote.

Hunting is a popular activity throughout Europe and plays an important conservation, economic and cultural role within society.

During this European Parliament Intergroup "Biodiversity, Hunting, Countryside" Conference, we will explore the various economic dimensions of hunting in Europe. Presentations and discussions will feature on the economic impact of hunting at national, European and industry levels.

We will also discuss how the economics of hunting can be better integrated into future national and EU policies on conservation and rural development as well as ongoing approaches towards evaluating ecosystem services.

Agenda:

– Welcome by Karl-Heinz FLORENZ, MEP

– Introduction by Renata BRIANO, MEP, and Boris ZALA, MEP

– Keynote speech by Jyrki KATAINEN, Vice President of the European Commission

– Panel:

Michl EBNER, FACE President
Alain DURAND, Vice President of the Féderation Nationale des Chasseurs
Kate IVES, BASC Senior Business Intelligence Officer
Manfred KIND, Business Representative & CEO of AKAH
– Discussion

– Conclusions

– Closing remarks

We invite you to participate in this exciting conference and to contribute to the discussion.

Visit conference.face.eu for more information and registration.