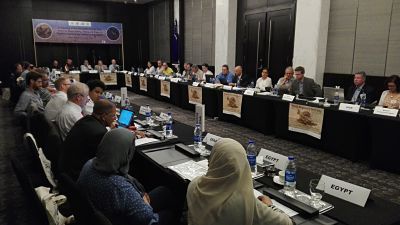 18 Jul 2016

1ST MEETING OF THE INTERGOVERNMENTAL TASK FORCE ON ILLEGAL KILLING, TAKING AND TRADE OF MIGRATORY BIRDS IN THE MEDITERRANEAN

At the meeting, Government representatives and a range of other stakeholders worked on developing a comprehensive programme of work for the Task Force until 2020.

The MIKT adopts a zero tolerance approach to illegal killing, trapping and trade of migratory birds (IKB). For this to be successful, it requires the full and proactive support at national level of all stakeholders. FACE has a long-standing zero tolerance policy on wildlife crime including illegal killing, as it is simply not hunting.

Dr. David Scallan, FACE Conservation Manager, who attended the meeting delivered a presentation outlining the various activities carried out by FACE Members in the Mediterranean region in the fight against IKB. These include the involvement of hunters in voluntary enforcement, public condemnation of IKB by hunting associations, the organization of various educational initiatives and the promotion of non-binding charters, such as the European Charter on Hunting and Biodiversity.

Going forward, FACE will be advising the Task Force on how to mobilize the full support of hunting organizations/hunters in the Mediterranean region.

Note:
The MIKT acknowledges "the role of legal and sustainable hunting of birds in sustainable livelihoods and conservation of habitats and the role of the hunting community in promoting and encouraging compliance with the law and sustainable hunting practices";

FACE is also following the Tunis Action Plan 2013-2020 (under the Bern Convention) on the eradication of illegal killing, trapping and trade of wild birds.