The FACE Biodiversity Manifesto Report 2016
FACE publishes a yearly report presenting the results of the Biodiversity Manifesto process while demonstrating European hunter's contribution to nature conservation.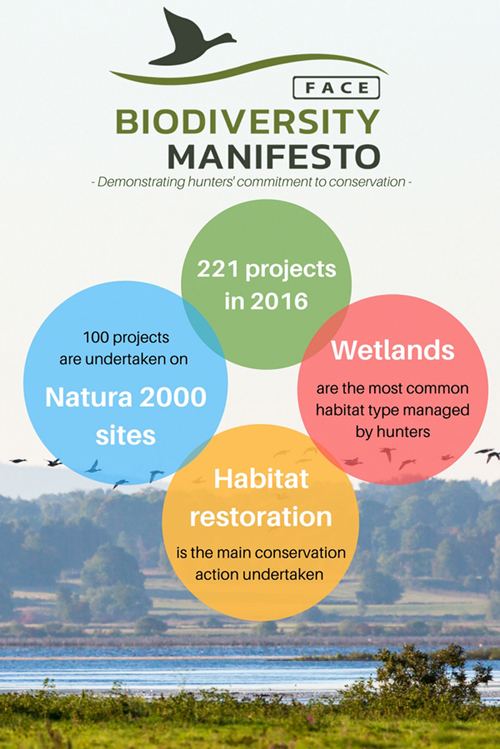 Since 2013, FACE has been gathering evidence to evaluate progress under the Biodiversity Manifesto. In 2015, FACE published its first BDM report, which presented how 181 conservation projects involving hunters linked to the targets of the EU Biodiversity Strategy to 2020. The report demonstrated that 23 of the 34 BDM actions directly contributed to the EU's Strategy.
2016 was dominated by discussions about the Fitness Check of the EU Birds and Habitats Directives, a process which set out to check whether these directives are 'fit for purpose'. In December 2016, the process was concluded with EU Commissioners announcing that an implantation action is to be developed. For this reason, the FACE BDM Working Group decided to focus the 2016 Biodiversity Manifesto Report on hunters' contribution to the implementation of the EU nature directives.
The 2016 BDM Report draws on 221 projects involving hunters from throughout Europe.
Dr. Michl Ebner, FACE's President, states: "Of these 221 projects, which hunters are involved in, 43 percent occur on Natura 2000 sites. This is important as Member States are obliged to ensure the favourable conservation status of habitats and species of EU interest under the nature directives. In this regard, the report shows that hunters are involved in a range of financing, monitoring, and restoration/conservation activities".
This report shows that hunters' interest in nature motivates them to conserve it. The solution and the challenge for the future is to promote the sustainable use of nature so that hunters and other stakeholders have a direct interest in it. When such positive synergies are in place, the conservation of nature becomes effortless.