Workshop on Sustainable Harvest of Migratory Waterbirds
The Waterbird Harvest Specialist Group (WHSG) met in Kalø in Denmark 17-19 March, to plan for the revision of the AEWA Guidelines on Sustainable Harvest of Migratory Waterbirds, which will be completed later this year. Getting this project started has been a challenge but thanks to support from, Aarhus University, the Fondation François Sommer, and the Danish Hunters' Nature Foundation who sponsored the meeting, the work is now underway. If successful the Guidelines, covering the entire flyway, will be submitted to the next AEWA Meeting of Parties in November this year. 
Since the re-launch of the WHSG, progress has been made into introducing the concept of adaptive harvest management into species conservation activities of AEWA, building upon the Svalbard Pink-footed Goose (Anser brachyrhychus) Management Plan. Just this month the report "Towards sustainable management of huntable migratory waterbirds in Europe", was completed which synthesises the concepts of adaptive harvest and puts them into a European context. It also provides an update of the status of AEWA waterbird populations listed in Annex II of the EU Birds Directive.
Download the new WHSG Report.
Amongst other issues the report demonstrates "that that an informed approach to setting allowable harvests does not require detailed demographic information. Essential to the process, however, are estimates of either the observed growth rate from a monitoring program or the growth rate expected under ideal conditions. In addition, periodic estimates of population size are needed, as well as either empirical information or reasonable assumptions about the form of density dependence. We show that such information exists for many populations, but improvements are needed to improve geographic coverage, reliability and timely data availability."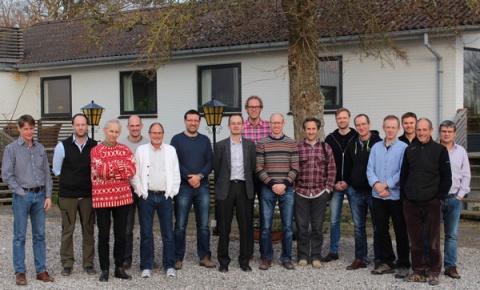 Above: participants of the workshop
The point being that achieving adaptive harvest management at EU level, is far from an impossible task. The scientific principles are well founded and concept understood by hunters, what is now needed is political will from governments to support and promote sustainable management of waterbirds.