FACE MEMBERS MEETING 2014: FACE WILL BE A SIGNATORY OF THE EUROPEAN COMMISSION'S LARGE CARNIVORES AGREEMENT
At the 2014 FACE Members' Meeting hosted by the Swedish Hunters' Association, FACE Members agreed to sign the Agreement on the European Platform to be officially launched in June by Commissioner Janez Potočnik.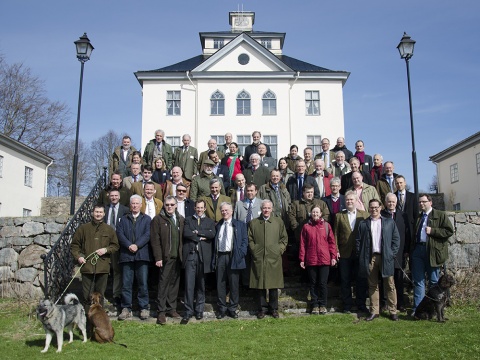 FACE Representatives from 21 countries gathering in Sweden for the 2014 FACE Members' Meeting from 9-12 April, agreed to sign the European Commission's "Agreement to participate in the EU Platform on Coexistence between People and Large Carnivores", an initiative bringing together stakeholder groups with an interest in large carnivore conservation for dialogue about human - large carnivore coexistence. A signatory ceremony, attended by Commissioner for Environment Janez Potočnik and all European stakeholders, including FACE, will be held in Brussels on 10 June. 
Hosted this year by the Swedish Association for Hunting and Conservation Svenska Jägareförbundet, the meeting was also attended by high level Swedish policy makers and aimed at covering policy and societal developments impacting on hunting. The event also focussed on a better understanding of hunting in the Nordic countries, and included a tour through the association's wildlife park hosting a wide range of Swedish wildlife species, including the endangered Lesser White-fronted Goose. The FACE Members' Meeting takes place once a year - the focus being on policy implementation and enhancing exchanges between FACE Members.
The first day of sessions saw the FACE Open Board Meeting, where FACE Delegates discussed the key topics and developments for FACE in 2014 including large carnivores, EU Animal Health Law, Invasive Alien Species, the FACE Biodiversity Manifesto, the European Commission's Communication on illegal firearms trafficking and FACE's response to this initiative and the upcoming EU elections and their implications, challenges and opportunities for European hunters. The day closed with an open session on hunters´ co-operation with public institutions and how it contributes to wildlife management with Eskil Erlandsson, Swedish Minister on Rural Affairs speaking about the positive experience between hunters and public institutions in Sweden and underlining the exceptional relations enjoyed by Nordic hunters and political representatives.
On the second day of discussions the focus was on hunting practices and policies in Nordic countries. Delegates of the Nordic Hunters' Cooperation, representing Sweden, Norway, Denmark and Finland, described how hunting is managed and perceived in their countries. All presentations highlighted an incredible acceptance by society for hunting and hunters, stemming on game meat considered as a central unifying element of these societies. Game meat is a common feature of the Nordic diet, particularly appreciated for its quality, sustainability and low impact on the environment.
Workshops on lead ammunition and large carnivores followed.
WORKSHOP ON LEAD IN AMMUNITION
Lead in ammunition is an issue widely discussed throughout the FACE Membership with various initiatives taking place all over Europe. Speakers from hunting associations, the industry and public institutions presented on the issue and FACE Members shared experiences from their countries. 
Presentations:
• The situation at European level/Cy Griffin, FACE
• Handling practices of game shot with lead/Fredrik Widemo, Swedish Hunters Association 
• The Swedish blood-lead analysis and recommendations for consumption of game meat/Swedish National Food Agency 
• The situation in Germany/Dr. Volker Böhning, Deutscher Jagdverband 
• The industry´s point of view/Torbjörn Lindskog, AFEMS 
WORKSHOP ON LARGE CARNIVORES
Large carnivores, their management and the growing number of conflicts owing to increasing populations have been at the center of the discussions within FACE for the last couple of years. Over the past decades wolves have returned to many regions in Europe sparking conflicts with rural populations and animal breeders. FACE is actively working with the Commission and other rural stakeholder groups in the framework of the European Commission's initiative for an "Agreement to participate in the EU Platform on Coexistence between People and Large Carnivores", FACE's Cy Griffin gave an overview on the initiative and FACE Members during the Open Board Meeting agreed to sign it. This Agreement will be launched at a high level event in Brussels on the 10 June 2014, in the presence of Commissioner Janez Potočnik.
Bengt-Anders Johansson, Vice-President Committee on Environment and Agriculture in the Swedish Parliament outlined his view from the parliament in relation to large carnivores and the EU. FACE Members explained the situation of large carnivores and arising challenges and opportunities in their respective regions. 
Presentations:
• Introduction European Large Carnivores/Lauri Kontro, president Nordic Hunters´ Co-operation
• Update on EU Large Carnivore Platform/Cy Griffin, FACE
• Current challenges in Large Carnivore Management in Sweden/Anders Grahn, Swedish Hunters´ Association   
• Large carnivores and the EU – a view from the parliament/Bengt-Anders Johansson, Vice-President Committee on Environment and Agriculture, Swedish Parliament 
• Large Carnivores in Balkans and Eastern Europe/ Srecko Žerjav, Slovenian Hunters Association
You can see photos here.