First National Wolf-Symposium held in Germany by DJV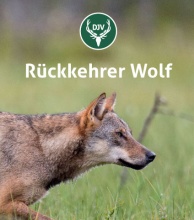 The steady growth of wolf populations in Germany and their deeper penetration into western regions from their original hunting grounds at the border with Poland have caused an animated debate in the public opinion and among decision makers.
While the increase of wolves can be considered a success in conservation terms, it is also a growing cause of concern for affected citizens, animal breeders, landowners and hunters.
On the 21st of March the German Hunters Association (DJV) organised in Berlin a symposium on the "Return of the Wolf - Welcome without ifs and buts?" inviting government officials, scientists, politicians, next to nature protection organisations, hunters and other user groups. The FACE Secretary General Filippo Segato was invited to offer the European point of view with a speech on "Large Carnivores and hunting from the European Perspective". It was an opportunity for FACE to update the participants on the latest initiatives of the European Commission regarding wolves, namely the "Platform on Coexistence between People and Large Carnivores" and the envisioned timeframe for an agreement on the final text by all involved stakeholders.
This was the first event in Germany at federal level. In spite of the highly emotional topic, the goal of the symposium was to contribute to an objective discussion while promoting acceptance for all positions aiming at finding viable solutions for human-wolf coexistence. 
In the context of the symposium the German Hunters' Association presented a key issues paper on the wolf in Germany. The DJV urges the Government to implement a nationwide management plan based on international guidelines. In particular, wolf management should consider the socio-economic impact of wolf populations returning to multi-functional landscapes. 
Currently, each German Land adopts its own wolf management plan. With a predicted increase in population of 30 percent per year, however, a national coordination is direly needed as wolves are likely to continue to cross the border from Poland. 
Two key discussion points emerged from the presentations: the definition of favourable conservation status and the issue of flexibility in the interpretation of strict protection and sustainable use in the Habitat Directive. Following the present trend a favourable conservation status of the wolf in Germany could therefore already be achieved in a few years. The DJV calls on federal and state governments to deal with wolf management in an objective and scientific manner. 
The representative of the Ministry of Environment however demonstrated a rigid approach to the possibility of moving the wolf from Annex IV (strict protection) to Annex V (sustainable use) of the European Habitat Directive, whilst recognising that the Government needed to provide better answers.
As a growing number of hunters receive specific wolf monitoring training, they can provide valuable evidence to the presence of this large mammal in new areas. The DJV asked for a larger role of the hunting community in wolf monitoring schemes and in data evaluation, in order to achieve a better acceptance in rural areas.