AEWA Action Planning workshop for the Taiga Bean Goose, Finland, 12-14 November
While several goose species in Western Europe are undergoing population increases, there are some exceptions.  
At the last AEWA Meeting of Parties in 2012 (MoP5), it was reported that the Taiga Bean Goose Anser fabalis fabalis had decreased from an estimated 100000 birds in the mid-1990s to 63000 in 2009. As a result the Taiga Bean Goose was uplisted from Column B, category 1 to Column A, category 3c*. This requires that it be subject to certain legal measures under the Agreement, including that Parties should prohibit hunting. By way of exception, if marked by an asterisk such as the case for the Taiga Bean Goose, hunting may continue on a sustainable use basis under the framework of an International Species Action Plan, which should endeavour to implement the principles of adaptive harvest management. These later conditions were also an amendment made at MOP5.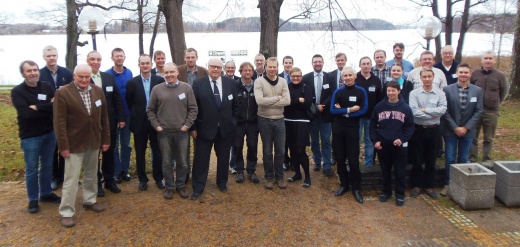 Putting species on lists and drafting amendments to texts may be a necessary first step, but real conservation benefits only happen when there is action. Thankfully the Ministry of Agriculture and Forestry and the Finnish Wildlife Agency took the initiative to develop an International Action Plan under AEWA. The Wetlands International Waterbird Harvest Specialist Group (WHSG) as launched at the International Union of Game Biologists Congress in August 2013, will also be involved, particularly for development of an adaptive harvest strategy for the Taiga Bean Goose. This has already been done for the Svalbard Pink-footed Goose Anser brachyrhynchus, but this is the first time under AEWA it will have been attempted for a population in decline. 
The workshop in Finland was the first Action Planning Workshop for the Taiga Bean Goose. It was attended by representatives from most of the range states of the Taiga Bean Goose, including Russia although not yet signatory of AEWA. This was a significant advantage as much of the breeding range of the Taiga Bean Goose is within the Russian Federation.  International stakeholders were also present including FACE, CIC, OMPO and BirdLife International. In addition to this workshop the Swedish Association for Hunting and Wildlife Management, will hold a meeting in December to gather information and offer the opportunity for national level NGOs to contribute to the conservation of the Taiga Bean Goose through the Action Planning process, and gain a better understanding of some of the management challenges. The Swedish hunters are well placed to do this as the have been making the conservation of the Taiga Bean Goose a priority for a number of years. The importance of stakeholder involvement should not be underestimated as the Action Plan will only be adopted in 2015, so any progress in filling knowledge gaps and putting in place interim management measures is highly valuable. 
Also see: 
http://www.unep-aewa.org/news/news_elements/2013/taiga_bean_goose_workshop.htm