Croatia: EU Accession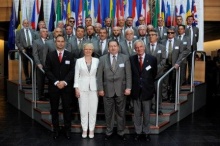 First Croatian EU citizens to visit the Heart of the EU? Hunters 
Why? Because they care for their nature & wildlife 
As one of the first Croatian civil society groups to visit the heart of the EU, Croatian hunters celebrate and discuss Croatia's excellent game management in the first few days of the 28th Member State's Accession.
 Representatives of the Croatian Hunting Federation and the Croatian Government gathered with MEPs under the auspices of the European Parliament's Sustainable Hunting Intergroup to discuss the integration of Croatia's wildlife, nature and hunters within the EU. 
A sizeable delegation of the Croatian Hunting Federation whose members include 60,000 new EU citizens was amongst the first civil society groups from Croatia to actively connect with the EU at the European Parliament following the country's Accession on 1 July. The 29 Croatian hunters and conservationists travelled 15 hours to Strasbourg by bus for this unique meeting, to engage with their new points of contact in the EU, asking questions about the Union's processes and Nature Directives as well as the work of the Sustainable Hunting Intergroup itself. 7 Croatian MEPs joined the meeting; where they expressed their support for the hunters' work in wildlife conservation.