Obituary Philip Lawton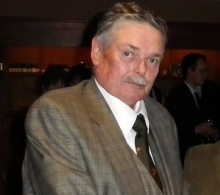 It is with great sorrow that we have learned of the passing of Irish Hunting writer and Countrysports and Country Life journalist Philip Lawton on 7 June.
FACE offers our sincere condolences to his family, friends and colleagues. We thought of Philip as one of the FACE family and we are deeply grateful for his contribution and support to European hunting. His recent presence at FACE's 35 Years celebrations in Brussels last September and at the FACE Members' Meeting in March of this year in Ireland was greatly appreciated.
Here is his obituary written by Albert J Titterington, fellow Irish hunter, organiser of the two great game fairs of Ireland and publisher of Irish Countrysports and Country Life, who shares a personal and sincere perspective on Philip:
Philip Lawton
Philip Lawton one of the great personalities of country sports passed away on Friday 7th June and his life was celebrated at his funeral  in All Saints Church on Wednesday 12th June.  When I say celebrated I do so advisedly because while there was obvious sadness,  many of the large crowd present could not help thinking that Philip, a very talented musician and very able actor, would have loved the rousing hymns, the choir singing a hymn with an arrangement by himself , the  well organised ceremony and the excellent address by the minister – who spelt out how Philip's life had touched so many people in different walks of life, and the huge number of his friends who were there to see him 'off'.
Philip is survived by his wife Margaret, son Stephen and daughters Naomi and Catherine. I know the family were greatly touched by the presence of so many people at the funeral and the heartfelt messages of sympathy they have received from all over the sporting world.
Philip had an involvement in, and was a great defender of virtually every country sport and pastime in Ireland from stick making through to his real passion of angling.  A real character, an able raconteur and talented writer he had a rapier wit and a fund of humorous stories many of which he shared through his writing as 'Midlander' in the Countryman's Weekly  or as 'Plus Twos' in the Irish Countrysports and Country Life. 
We, in the Great Game Fairs of Ireland, were delighted to utilise Philip's warm personality and  talents and take them to a wider audience  by giving him possibly his 'greatest stage'  as ROI Editor of Irish Countrysports & Country Life magazine , as a Director of the Great Game Fairs of Ireland  including being MC at our PR functions; Arena Director at both fairs and even taking part in the Victorian Poacher long netting act where he acted the befuddled 'Constable' who never caught the poacher!
With his massive personality he was simply superb in all of these roles and will be greatly missed. This is why we dedicate the success of this year's Great Game Fairs of Ireland to his memory. 
Albert J Titterington