European Hare Colloquium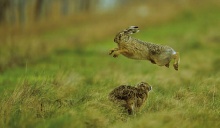 At the well-attended European hare Colloquium (15-16 May) - with over 300 participants, mainly from France but also a few from Switzerland and Belgium - in Troyes, in the heart of the Champagne Region, FACE's Yves Lecocq gave a presentation on the legal and conservation status of the different hare species occurring across Europe and on the great diversity in their hunting and management. The event was very well organised by the national French hunters' federation FNC and the national wildlife management agency ONCFS to promote the best possible management of this emblematic species, which has always drawn considerable interest from a wide range of hunters.
During the two days, qualified experts made excellent presentations on population monitoring, wildlife diseases, sustainable hunting methods, predation, habitat restoration, the Common Agriculture Policy and other relevant aspects for the management of hares. Many questions and lively discussions during the plenary sessions and during the five parallel workshops on the morning of the second day demonstrated the intention of the French hunters' community to restore and manage hare populations; as a contribution to hunting but also to biodiversity in a mixed farming landscape.