Tula Stapert – In awe of the bird
FACE is sharing the stories of women hunters: their motivations challenges and views. We thank all the women that have shared their experience with us through our questionnaire, here's a snapshot from Tula in the Netherlands: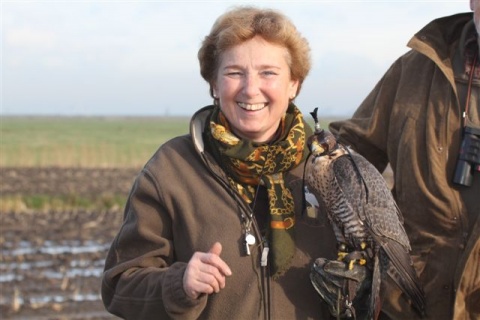 Passionate falconer Tula from the Netherlands is an active hunter, conservationist and engages internationally for women hunters through the Women's Working Group of the International Association of Falconry (IAF). Additionally, she is working with the Dutch Hunters Association (KNJV) to establish a Dutch women hunting group and frequently goes hunting with other women. Tula works as an Estate Manager and became a hunter when she was 35 years old, now taking her bird hunting every day. 
Falconry is Tula's great passion – she loves it when the bird is fit and it is given the best chance for a flight that results in a kill which the bird is offered to eat. The intensity of the moment and awareness of her being alone in the field with her bird still puts Tula in wonder.
Tula is very active undertaking multiple conservation actions and participating in several initiatives. As Secretary of the Board of the hunting unit (WBE – wildbeheereenheden) WBE de Eem, she organises in her function the counting of all Fauna in the 7000 ha area of the hunting grounds five times a year. 80 hunters participate in this, and the results feed into the KNJV data bank to follow trends and developments in wildlife populations.
Tula is also involved with the Polish Peregrine project, which reintroduced peregrines to Poland after the tree nesters became extinct in the country in the mid-20th century. Falconers from all over Europe are involved in the project and Tula leads it for the Netherlands. More information on this long-term project can be found here:  http://peregrinus.pl/en/peregrine-falcon/157-peregrine-story-in-poland
As a mentor Tula passes on her knowledge and teaches the craft of falconry to new generations in year-round internships which are concluded by a report of the hunting days and shared experience. You can find more information here: http://www.ordedernederlandsevalkeniers.nl/ 
Hunting gives Tula a sense of belonging and being and she shares this experience with friends and her falconry students in the field.