Survey highlights value of shooting in the UK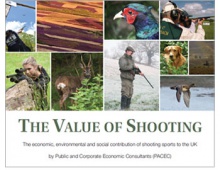 Shooting is worth £2 billion to the UK and supports the equivalent of 74,000 full time jobs are two of the main findings of a recent survey commissioned by 16 organisations involved with shooting and the countryside in the UK.
Findings of the study included: 
• Shooters spend £2.5 billion each year on goods and services
• Shooting is worth £2 billion to the UK economy (GVA)
• Shooting is involved in the management of two-thirds of the rural land area
• There are 4 million (est) airgun owners – of which 1.6 m shoot live quarry
• 600,000 people in the UK shoot live quarry, clay pigeons or targets
• Shoot providers spend nearly £250 million a year on conservation
• Shooters spend 3.9 million work days on conservation – that's the equivalent of 16,000 full-time jobs
• Two million hectares are actively managed for conservation as a result of shooting
The survey was carried out by Cambridge-based Public and Corporate Economic Consultants (PACEC) and aimed to assess the economic, environmental and social benefits of shooting sports.
You can read more about the survey and download The Value of Shooting report in PDF format here.
The commissioning organisations were: British Association for Shooting and Conservation Limited (BASC), British Shooting Sports Council (BSSC), CLA, Clay Pigeon Shooting Association (CPSA), Countryside Alliance, Game Farmers' Association (GFA), GunsOnPegs, Gun Trade Association (GTA), Moorland Association (MA), National Gamekeepers' Organisation (NGO), National Rifle Association of Great Britain and Northern Ireland (NRA), National Small-Bore Rifle Association (NSRA), Scottish Land & Estates (SL&E) incorporating the Scottish Moorland Group (SMG), Scottish Enterprise (SE), Scottish Natural Heritage (SNH) and Scottish Country Sports Tourism Group (SCSTG).
Hunting is an important socio-economic activity, particularly in rural areas. Recent research reports have suggested that within the EU alone hunting may be worth an estimated €16 billion.¹
This apart from being an estimate does not capture the complexity of values that can be added, derived or offset from hunting activities. Given that hunting is a widespread component of rural activities it is vital that its importance be assessed, particularly in more marginal areas. To this end FACE is looking to support socio-economic evaluations of hunting in Europe in order to advance our understanding of the economic benefits to better inform policy decisions in rural areas and for biodiversity.
(1) Kenward, R. & Sharp, R. (2008) Use Nationally of Wildlife Resources Across Europe, 117-132.: in Manos, P. & Papathanasiou, J. [eds.] (2008) GEM-CON-BIO: Governance & Ecosystems Management for the Conservation of Biodiversity. Thessaloniki