Stagni della Piana: Italian hunters created wetlands now included in Natura 2000
The alluvial plain ranging over the Provinces of Firenze, Prato and Pistoia, enclosing a large internal wetland area (especially during autumn, winter and spring) became the most industrialised and urbanised area of whole Tuscany. Around 30 years ago, private hunters decided to create permanent small depth lakes in this area by artificial and controlled flooding with the aim to hunt ducks, coots and other game birds during the hunting seasons.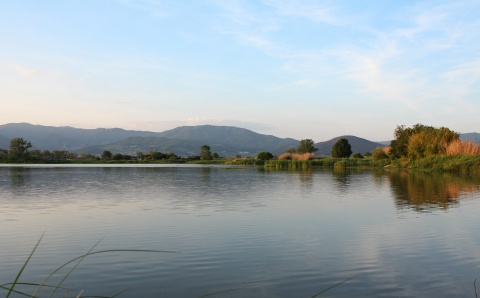 Since then, several actions are regularly conducted in order to restore and maintain the wetlands: planting of hedges composed of indigenous shrub species, planting of game crops (corn and sorghum) throughout the wetland according to the principles of organic farming.
Outside the hunting seasons, hunters undertake great efforts to grant minimum depth levels and reliable vegetation conditions to support avifauna for pre-nuptial migration and breeding. Actions are normally conducted in the late summer period with a reduced use of mechanical means and consistent use of handwork to warrant maximum respect and reduce any disturbance.
These lakes today number over 40 - with variable extension (from 1 to 15ha) - meaning that a significant surface is yearly subtracted from intensive farming and allocated to biodiversity conservation and habitat maintenance. Each lake is managed by a group of between 4 and 12 hunters this counts up to more than 500 people being involved in wetland maintenance and creation.
The valuable activity of recreating wetland zones, conducted by hunters with their own resources, showed significant results in all avifauna presence, yearly checked through the International Waterbird Census (IWC) of Wetlands International and other census activities and growing despite urbanisation and habitat loss.
While the lakes maintenance is conducted by private hunters, the collection of data is done by the Federazione Italiana Della Caccia (Italian Hunting Association) at national and local level. The district administrations of Firenze, Prato, Pistoia and Pisa, recognizing the value of the habitats creation, cooperate in such initiatives.
Without the hunters' great efforts, this big alluvial plain would have faced a decrease of biodiversity and wetlands surface. The related results were quite conclusive as some of the sites were proposed as Sites of Community Importance in 1995 and classified as Special Protection Areas in 2004 to be then included in the Natura 2000 Network.
Natura 2000 sites - Stagni della Piana Fiorentina e Pratese 
natura2000.eea.europa.eu/Natura2000/SDF.aspx?site=IT5140011
For more information:
http://www.msn.unifi.it/upload/sub/specola/img/Piano%20per%20la%20piana/09.pdf
parcodellapiana.it/i-luoghi/aree-umide/
Contact person:
Michele Sorrenti – Federazione Italiana della Caccia : ufficio avifauna migratoria
+39 366 561 63 64