Dorthe Bundgaard Boedker Olesen – Exciting therapy
FACE is sharing the stories of women hunters: their motivations challenges and views. We thank all the women that have shared their experience with us through our questionnaire, here's a snapshot from Dorthe in Denmark: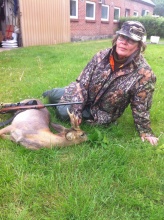 Student Dorthe Bundgaard Boedker Olesen from Denmark has been an active hunter for four years now. She became a hunter for her love of nature, seeing the day begin, listening to only the sounds of nature. Hunting and its silence are valued by Dorthe as a good therapy from stressful day-to-day life. But it is not all about quietness for Dorthe, she enjoys the excitement of waiting and anticipating a possible catch. She highly appreciates the taste of game meat and its lean quality. Sometimes Dorthe takes her husband hunting but mostly she goes out alone – and quite frequently, when season begins she goes hunting daily, later once a week and in winter around once a month.