Aiming right: FACE's new position paper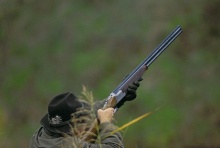 Legal Firearms & Possible Reopening of Directive 91/477/EEC
The European Commission is taking a number of initiatives and making allegations about the link between legal and illegal firearms with the apparent objective of justifying the reopening of the Firearms Directive, and rendering it more restrictive. FACE represents the largest group of legal firearms users in the EU. This is our position.
Les armes à feu légales et éventuelle reouverture de la Directive 91/477/CEE

La Commission européenne est en train d'entreprendre un certain nombre d'initiatives et évoque des allégations concernant le lien entre les armes à feu légales et illégales dans un but illusoire de justifier la réouverture de la Directive Armes à feu, et de la rendre plus restrictive. La FACE englobe le plus grand groupe d'utilisateurs d'armes à feu légales dans l'UE. Voici notre position.
Legale Feuerwaffen und Eine Mögliche Wiederöffnung der Richtlinie 91/477/EEC

Die Europäische Kommission unternimmt eine Anzahl an Initiativen und stellt Behauptungen zu einer Verbindung zwischen legalen und illegalen Feuerwaffen auf, mit dem augenscheinlichen Ziel eine Wiederöffnung der Feuerwaffen-Richtlinie zu rechtfertigen und diese mehr restriktiv zu machen. FACE vertritt die größte Gruppe von Benutzern legaler Feuerwaffen in der EU. Dies ist unsere Position.