AEWA action-planning workshop for the Long-tailed Duck
Following recommendations from the AEWA Technical Committee, and the event of the some species becoming up-listed under the IUCN Red List shortly before the 5th Meeting of the AEWA Parties in La Rochelle, in 2012 a resolution was passed urging parties to support the development of single species action plans for Eurasian Curlew (Numenius arquata), the Long-tailed Duck (Clangula hyemalis) and the Velvet Scoter (Melanitta fusca), with prioritisation for the Long-tailed Duck.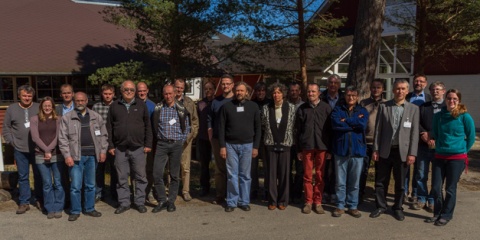 The action planning workshop for the Long-tailed Duck took place in Roosta, Estonia, 23-25 April 2014, to start the drafting process of an action plan. The meeting gathered national delegates and experts from the range states, to identify the causes for the population decline and potential actions to remedy them. The workshop was hosted by the Estonian Environmental Board and the Ministry of the Environment of Estonia and co-organized by the UNEP/AEWA Secretariat, Wetlands International and the Wildfowl & Wetlands Trust (WWT). 
Several sea ducks populations in the Baltic have declined in the past two decades, particularly those mainly feeding on mussels and other molluscs. Of these, the Long-tailed Duck is estimated to have undergone the most severe declines. Two populations occur within the AEWA region. While the Iceland & Greenland population is thought to be stable at 100,000-150,000 birds, the Western Siberia/North Europe population of Long-tailed Duck is believed to have declined from 4.6 million birds in 1993-1995 to 1.6 million birds in 2007-2009. 
Unfortunately knowledge is limited on the main drivers of the population decline, even during the workshop the experts were hesitant to make any assumptions without better data. More worrying is that due to lack of resources and logistical constraints it may be difficult to fill the knowledge gaps. All that can be said is that low breeding propensity and low productivity could be behind the observed decline.
As some of the countries bordering the Baltic Sea have an open season for Long-tailed Duck, FACE was invited as an observer to assist with discussions on hunting. As estimates for hunting bags are available the participants could agree that the low numbers taken each year are fairly insignificant compared to the size of the population, but regardless a more detailed assessment of the sustainability of hunting should take place.  Other potential threats that were discussed included; pollution/oil spills, by-catch in fishing nets, wind farm developments causing avoidance and exclusion of feeding habitat, changes in water quality, and spread of an alien invasive species of fish in the Baltic Sea which feeds on mussel beds leading to food competition.  
The plan is to be drafted by the WWT in consultation with experts in the coming months and formally with the Range States this autumn. It is expected that the plan will be adopted at the 6th Meeting of the Parties in November 2015.