ECONOMIC DAMAGES CAUSED BY BIG GAME
Location:
European Parliament, Brussels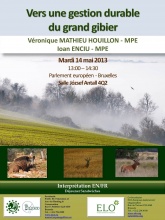 European Parliament Sustainable Hunting Intergroup Meeting: 14 May
MEP Véronique Mathieu, President of the European Parliament's Sustainable Hunting Intergroup will host a session on Economic Damages caused by big game at 12.45-14.30 on Tuesday 14 May in the European Parliament, Brussels.
This session is primarily being led by Intergroup co-Secretariat ELO (European Landowners' Organization), with FACE playing a lighter role by inviting FACE Members to participate and present their experience. Linda Dombrovska from the Latvian Hunters' Association will give be one of the speakers.
Please do let us know if you wish to participate so that we can arrange an entrance badge for you.
See the poster & the programme, read the Report.

Réunion de l'Intergroupe Chasse durable au Parlement européen: 14 mai

La Députée européenne Véronique Mathieu, Présidente de l'Intergroupe Chasse durable au Parlement européen, accueillera une réunion de l'Intergroupe sur les Dégâts économiques causés par le grand gibier le mardi 14 mai de 12h45 à 14h30 au Parlement européen à Bruxelles.
Cette session sera principalement conduite par le Co-Secrétariat de l'Intergroupe ELO (l'Organisation européenne des propriétaires fonciers), avec un rôle plus léger de la FACE invitant les Membres de la FACE à participer et présenter leur expérience. Linda Dombrovska de l'Association nationale des chasseurs de Lettonie figurera parmi les orateurs.
Veuillez nous communiquer votre éventuel intérêt pour cet événement afin que nous puissions vous prévoir un badge d'entrée.
Consulter l'affiche et le programme, lisez le Rapport.
14. Mai: Seminar der Intergruppe Nachhaltige Jagd des Europäischen Parlaments

Organisiert MdEP Véronique Mathieu und Präsidentin der Intergruppe Nachhaltige Jagd des Europäischen Parlaments am Dienstag, den 14. Mai 2013 (von 12.45 Uhr bis 14.40 Uhr) im Europäischen Parlament in Brüssel ein Seminar  zum Thema Wirtschaftliche Schäden durch Hochwild.

Die Federführung des Seminars übernimmt diesmal der Verband der Europäischen Grundeigentümer ELO, der das Co-Sekretariat der Intergruppe stellt. FACE übernimmt diesmal eine ergänzende Rolle und lädt alle FACE Mitglieder zur Teilnahme und Präsentation ihrer Erfahrungen ein. Linda Dombrovska vom nationalen litauischen Jagdverband wird als Referentin auftreten.

Bitte geben Sie uns Bescheid, wenn Sie an dem Seminar teilnehmen möchten, damit wir für Sie einen Eintrittsausweis organisieren können.
Siehe Poster & das Program & das Bericht