Croatia: EU Accession - Round Table
Location:
European Parliament, Strasbourg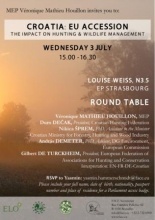 Please join us at the European Parliament in Strasbourg on Wednesday 3 July for a unique insight into the environmental, social, economic and political factors shaping wildlife management and hunting in the EU's newest Member State.
3 July 2013, Strasbourg - Leading experts on hunting and conservation aspects of Croatia's accession to the EU will gather with MEPs, Croatian representatives and the Commission in the European Parliament to discuss the key aspects and future for Croatia's wildlife, nature and hunters within the EU. Under the auspices of the European Parliament's Sustainable Hunting Intergroup, this panel discussion will be chaired by the Intergroup's President, MEP Véronique Mathieu Houillon, welcoming Croatia and Croatian hunters into the EU.
Please see the invitation for details including speakers and registration.